Don't know where to begin? We'll help!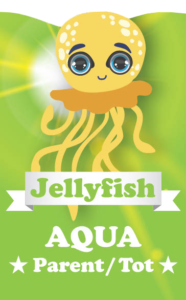 JELLYFISH – Parent & Tot (2 months)
Parent and Baby classes are an INTERACTIVE and ENGAGING lesson for both you and your little swimmers. At Aquafin, we have three different Baby Classes based on age as you start your swim journey and make milestones TOGETHER!
Parent and Infant: 2-8months
Parent and Tot: 9-19months
Flipper Transition: 20-36months

** All parent and baby classes are based on age for safety and development purposes **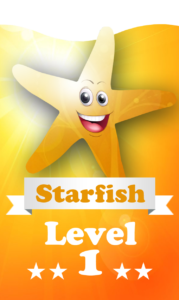 LEVEL 1 – STARFISH
This is the first of our group levels. Swimmer can begin this level starting at 3 years old! We practice blowing bubbles, and working up to putting their whole face in as well as willing to jump to the instructor while going underwater independently. We want to start our swimmers from Level 1 kicking their legs properly, kicking up and down with straight legs. By the end of Level 1 our swimmers will be comfortable with and around water, able to voluntarily put their face in water, and confidently swim towards the instructor.  As well as feeling confident on their safety skills such as rolling to a float and climbing out of the pool.
AQUAfin Safety Pledge and following directions

Water Introduction – Getting comfortable in and around water

Breath control- introduction to blowing bubbles 

Pool Safety- Assisted Jump to a Float and Climbing out of the Pool

Learning Big Kicks

Assisted Underwaters

Unassisted Underwaters
Swimmer needs to be able to blow bubbles and put the whole face in the water

Swimmer needs to be leaning forward onto belly putting face into the water and swim to the instructor at least 4-5 ft away from the swimmer. 
   *confidently and comfortably going under the water 
Can climb out of the pool with no assistance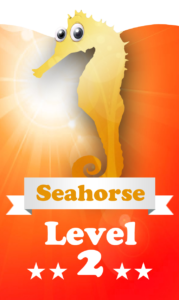 LEVEL 2 – SEAHORSE
Level 2 swimmers are focusing on their independent kicking. By now, swimmers are confident in the water and ready to practice swimming to the instructor independently. In Level 2, the swimmers start with equipment kicking with straight legs and pointed toes. To then build up to their independent Rocketship Streamline with eyes looking down and strong kicks to keep their body up. They also work on Safety Drills such as Glide to a float, and Octopus Arms, each drill works on developing their water competency and confidence.
Starfish Floating with Rolling over to belly

Introduction to gliding into a Starfish Float

Breath control- blowing out bubbles while kicking

Kicking with equipment

Pool Safety – Octopus Arms

Independent Kicking 

Introduction to Independent Rocketship Streamline
Able to do unassisted rocketship kick to instructor 

kicks need to be on top of the water keeping swimmers body up the whole time

Straight legs and pointed toes while kicking

Can kick and with Octopus Arm independently to instructor 

Comfortable floating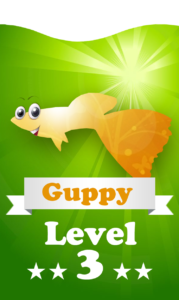 LEVEL 3 – GUPPY
Within this level swimmers start the introduction to Freestyle, practicing water competency and safety, and working on independent swimming. Swimmers learn how to do big arms circles, as well as learning how to breath to the side during their big arms. Level 3 also continues to practice safety drills such as independent floating and rolling and octopus arms swimming back into the steps.
Unassisted Floating and Rolling 

Independent Streamline Kicking

Pool Safety! – Octopus Arms

Introduction to Big Arm Circles Drill

Introduction to Side Breathing w/ Big Arms

Independent Freestyle Big Arms

Water Confidence and Control
Can do independent big arms circles while

attempting

side breathing
Needs to have strong kicks, keeping body up the whole distance
Able to float and roll unassisted

Indpendent streamline breathing every 3 kicks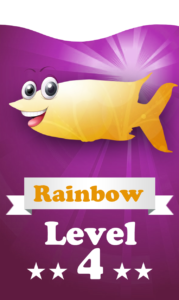 LEVEL 4 – RAINBOW
At this level swimmers will be confident floating and practicing their swim to a float for safety. A big part of this level and freestyle is learning and mastering the side kick. Swimmer will be introduced to side kicking as well as side kick with rotation. Where they learn how to kick flat on their stomachs, then roll to their side kick for a breath and back to the stomach. This is a very important skill for the development of strong freestyle swimming and takes time for swimmers to develop confidence in each part. The goal of this level is to get our swimmers completing a full pool length of Freestyle comfortably with side breathing.
Swim to a Foat

Introduction to side kicking 

Kicking on the Side wIth body rotation

Catch Up Drill with focusing on body rotation and breathing to the side 

Unassisted Freestyle breathing to the side
Swimming freestyle breathing everty 3 strokes 

Should be able to swim the

whole

pool with:
Strong kicks to keep whole body on top water 

Rolling to the side every 3 arm pulls to breath
Can swim independent side kicking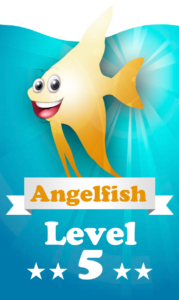 LEVEL 5 – ANGELFISH
The goal of this level is to perfect their freestyle technique, while gaining strength and endurance to swim longer distances. The primary time will be spent on freestyle drills and independent freestyle swimming. This is a highly technical level for Freestyle, swimmers will practice different pieces of the stroke to put together a strong and efficient swim.  Backstroke is added in as well, working on back kicking and introduction to backstroke arm circles.
Flutter Kicking in Streamline

Unassisted Side Kicking

Freestyle Drills 

Unassisted Freestyle, full pool length- focusing on breathing and technique 

Introduction to backstroke – kicking and arm circles
Strong and confident Freestyle, able to breath to the side 

Able to kick on back in streamline keeping hips up and body on top of water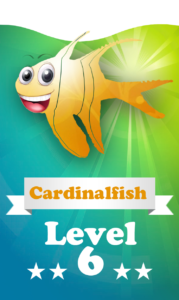 LEVEL 6 – CARDINALFISH
The goal of this level is to be confident with all 4 of the competitive strokes with proper technique.(Freestyle, Backstroke, Breaststroke, Butterfly) As well as build strength and endurance for swimming longer distances down and back in the pool. To develop these highly technical strokes, swimmers need to consistently practice their drills and full swimming. Breaststroke and Butterfly are strokes learned through time and repetition; swimmers will be introduced to these strokes and progress in the same level.
Backstroke Drills 

Full Backstroke Swim

Butterfly Drills

Full Butterfly Swim

Breaststroke Drills 

Full Breaststroke Swim
Can swim 2 laps continuously of Freestyle, Backstroke, Butterfly and Breaststroke keeping technique consistent throughout 2 laps
LEVEL 7 – DOLPHIN
The goal of this level is to gain swimmer endurance, and refine their stroke skills. As well as how to do basic swim team skills, like sculling, IM order, and open turns. They will learn different competition swim rules, such as legal two hand touch turns and what can disqualify you during a race. Level 7 is a preparation for joining a swim team.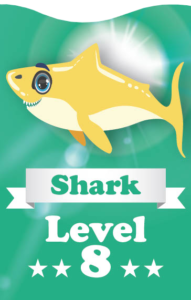 LEVEL 8 – SHARK PRIVATE LESSONS
Private lessons for high skilled upper level swimmers who are already a part of a Swim Team seeking fine tune skill development with one of our highly trained and qualified Instructors. These swimmers need to be personally evaluated by the Regional Director.

Not sure which class is right for your swimmer?
Sign up for a FREE assessment and we'll place them for you!